Ce Integrated Led Ac + Emergency Driver 18450x (184500/184501)
2 views
Features
Characteristics
Selection Models
Model Dimensions
Wiring Diagrams
Product Tags
1. A module that integrates the functions of AC LED driver and emergency driver provides a simpler wiring method and a more cost-effective emergency solution for LED lighting fixtures.
2.With external terminal block for flexible wiring connection.
3. External battery pack can be replaced conveniently. Matching with different types of the designated battery packs, and by setting dipswitches, end users can get the preferred emergency power and emergency time easily.
4. Typical application: Suitable for indoor, dry and damp applications. Small height is ideal for slim LED lighting fixtures. For installed inside the lighting fixtures which need work in both normal and emergency operation. E.g. LED Ceiling light, LED panel light, LED Wrapround light and etc.
5. Use this product in 0°C minimum, 50°C maximum ambient temperatures (Ta).
Dipswitch 1/2/3: Setting LED working current in normal
Dipswitch 4/5: Setting emergency output
---
Previous:
Parallelable Modular Inverter 184804
---
Type

184500

Model

18450

0-A1-EN-8C1.0

18450

0-A1-EN-8C2.0

18450

0-A1-EN-8C4.0

18450

0-A1-EN-8C5.0

Rated voltage

120-2770

VAC 50

/60

Hz
Rated current
0.1

5

A
0.1

5

A
0.1

6

A
0.

17

A
Rated power
31W 

(Max.)

3

2W 

(Max.)

34W 

(Max.)

36W 

(Max.)

Emergency output

1.8W – 3 hours

2.6W – 2 hours

3.5W – 1.5 hours

5.3W – 1 hour

3.5W – 3 hours

5.3W – 2 hours

7W – 1.5 hours

10.5W – 1 hour

7W – 3 hours

10.5W – 2 hours

14W – 1.5 hours

21W – 1 hour

8.8W – 3 hours

13.1W – 2 hours

17.5W – 1.5 hours

25.2W – 1 hour

Output voltage

18-60

VDC
Operation frequency
320kHz≥f≥50kHz
Power Factor
≥0.9
Battery
9.6V 1.0Ah, Ni-Cd
9.6V 

2

.0Ah, Ni-Cd
9.6V 

4

.0Ah, Ni-Cd
9.6V 

5

.0Ah, Ni-Cd
Charging time
24 Hours
Discharge time
>90 Minutes
Charging current
0.

05

A

0.1A

0.2A

0.25A

Life time
5 years
Charging cycles
>500
Operation temperature
0-5

0

℃ (32°F-1

22

°F)
Output current
150mA, 250mA, 300mA, 350mA, 400mA, 450mA, 500mA, 600mA ±

5

%
Efficiency

75

%
Abnormal protection
Over load, Inrush current limiting, open circuit, short-circuit Protection with auto-reset
Wire

0.5

-

1

.5mm2
EMC standard
EN 55015, EN 61547, EN 61000-3-2, EN 61000-3-3
Safety standard
EN 61347-1, EN 61347-2-7

,

 EN 61347-2-13,
Meas.module mm [inch]
L175 [6.89] x W65 [2.56] x H22 [0.87] Mounting Cent

e

r:

167

[

6.57

]
Meas. battery pack mm [inch]
9.6V 1.0Ah: L

228 [8.98]

 x W

30 [1.18]

 x H

17 [0.67]

 Mounting Center: 

217

 [8

.54

]

9.6V 2.0Ah: L195 [7.68] x W45.5 [1.79] x H24.5 [0.96] Mounting Center: 184 [7.24]

9.6V 4.0/5.0Ah: L263 [10.35] x W65 [2.56] x H35 [1.38] Mounting Center: 252 [9.92]
Type

184501

Model

18450

1-A1-EN-8C1.0.

18450

1-A1-EN-8C2.0

18450

1-A1-EN-8C4.0

18450

1-A1-EN-8C5.0

Rated voltage

120-277

VAC 50

/60

Hz
Rated current
0.2

4

A
0.2

5

A
0.2

6

A
0.2

6

A
Rated power
50W 

(Max.)

51W 

(Max.)

53W 

(Max.)

54W 

(Max.)

Emergency output

1.8W – 3 hours

2.6W – 2 hours 3.5W – 1.5 hours

5.3W – 1 hour

3.5W – 3 hours

5.3W – 2 hours

7W – 1.5 hours

10.5W – 1 hour

7W – 3 hours

10.5W – 2 hours

14W – 1.5 hours

21W – 1 hour

8.8W – 3 hours

13.1W – 2 hours

17.5W – 1.5 hours 25.2W – 1 hour

Output voltage

18-60

VDC
Operation frequency
320kHz≥f≥50kHz
Power Factor
≥0.9
Battery
9.6V 1.0Ah, Ni-Cd
9.6V 

2

.0Ah, Ni-Cd
9.6V 

4

.0Ah, Ni-Cd
9.6V 

5

.0Ah, Ni-Cd
Charging time
24 Hours
Discharge time
>90 Minutes
Charging current
0.

05

A

0.1A

0.2A

0.25A

Life time
5 years
Charging cycles
>500
Operation temperature
0-5

0

℃ (32°F-1

22

°F)
Output current

60

0mA,

70

0mA,

75

0mA,

80

0mA,

85

0mA,

90

0mA,

95

0mA,

10

00mA ±

5

%
Efficiency

75

%
Abnormal protection
Over load, Inrush current limiting, open circuit, short-circuit Protection with auto-reset
Wire

0.5

-

1

.5mm2
EMC standard
EN 55015, EN 61547, EN 61000-3-2, EN 61000-3-3
Safety standard
EN 61347-1, EN 61347-2-7,

EN61347-2-13

Meas.module mm [inch]
L195 

[7.68]

 x W65 [2.56] x H22 [0.87] Mounting Center: 

187 [7.36]

Meas. battery pack mm [inch]
9.6V 1.0Ah: L

228 [8.98]

 x W

30 [1.18]

 x H

17 [0.67]

 Mounting Center: 

217

 [8

.54

]

9.6V 2.0Ah: L195 [7.68] x W45.5 [1.79] x H24.5 [0.96] Mounting Center: 184 [7.24]

9.6V 4.0/5.0Ah: L263 [10.35] x W65 [2.56] x H35 [1.38] Mounting Center: 252 [9.92]
Phenix Type No.
Measurement LxWxH mm [inch]
Individual unit packaging in weight kg [lb]
Operating temperature
Input voltage
Output voltage
Auto test
AC driver function
AC driver/ballast output power
Emergency power
Lumens @120LM/W
Approval
CE INTEGRATED LED AC+EMERGENCY DRIVER 18450X
184500-A1-EN-8C1.0
Module: L175 [6.89] x W65 [2.56] x H22 [0.87]                                     Battery: L228 [8.98] x W30 [1.18] x H17 [0.67]
0.55 [1.21]
0-50℃
AC 120-277V
DC 18-60V
●
●
2.7-25W selectable
1.8-5.3W
216-636
 
 
 
●
184500-A1-EN-8C2.0
Module: L175 [6.89] x W65 [2.56] x H22 [0.87]                                     Battery: L195 [7.68] x W45.5 [1.79] x H24.5 [0.96]
0.80 [1.76]
3.5-10.5W
420-1260
184500-A1-EN-8C4.0
Module: L175 [6.89] x W65 [2.56] x H22 [0.87]                                     Battery: L263 [10.35] x W65 [2.56] x H35 [1.38]
1.40 [3.09]
7-21W
840-2520
184500-A1-EN-8C5.0
Module: L175 [6.89] x W65 [2.56] x H22 [0.87]                                     Battery: L263 [10.35] x W65 [2.56] x H35 [1.38]
1.40 [3.09]
8.8-25.2W
1056-3024
184501-A1-EN-8C1.0
Module: L195 [7.68] x W65 [2.56] x H22 [0.87]                                      Battery: L228 [8.98] x W30 [1.18] x H17 [0.67]
0.60 [1.32]
0-50℃
AC 120-277V
DC 18-60V
●
●
10.8-42W selectable
1.8-5.3W
216-636
 
 
 
●
184501-A1-EN-8C2.0
Module: L195 [7.68] x W65 [2.56] x H22 [0.87]                                   Battery: L195 [7.68] x W45.5 [1.79] x H24.5 [0.96]
0.80 [1.76]
3.5-10.5W
420-1260
184501-A1-EN-8C4.0
Module: L195 [7.68] x W65 [2.56] x H22 [0.87]                                     Battery: L263 [10.35] x W65 [2.56] x H35 [1.38]
1.40 [3.09]
7-21W
840-2520
184501-A1-EN-8C5.0
Module: L195 [7.68] x W65 [2.56] x H22 [0.87]                                    Battery: L263 [10.35] x W65 [2.56] x H35 [1.38]
1.40 [3.09]
8.8-25.2W
1056-302
184500x
Item No.
L 

mm [inch]

M 

mm [inch]

W 

mm [inch]

H 

mm [inch]

184500
175 

[6.89]

167

[

6.57

])
65 

[2.56]

22 

[0.87]

184501

195 

[7.68]

187 [7.36]

65 

[2.56]

22 

[0.87]
BATTERY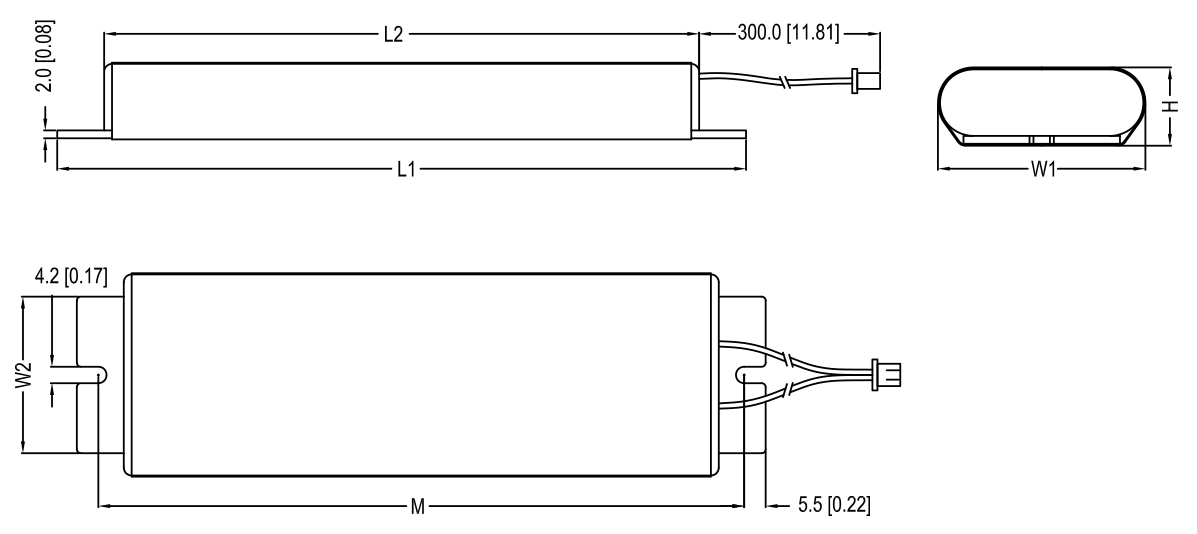 Battery model
Spec.
L1
L2
M
W1
W2
H
mm [inch]
mm [inch]
mm [inch]
mm [inch]
Mm [inch]
mm [inch]
8C1.0
9.6V 1.0AH
228 [8.98]
195 [7.68]
217 [8.54]
30 [1.18]
20 [0.79]
17 [0.67]
8C2.0
9.6V 2.0AH
195 [7.68]
170 [6.69]
184 [7.24]
45.5 [1.79]
40 [1.57]
24.5 [0.96]
8C4.0
9.6V 4.0AH
263 [10.35]
236 [9.29]
252 [9.92]
65 [2.56]
40 [1.57]
35 [1.38]
8C5.0
9.6V 5.0AH
263 [10.35]
236 [9.29]
252 [9.92]
65 [2.56]
40 [1.57]
35 [1.38]
LED TEST SWITCH (LTS)
Dimension in millimetres [inches in brackets]
Tolerance:±1mm [0.04]